Install 32-bit ActiveX and Verify Install
This post shows how to install the 32-bit Chilkat ActiveX using the 32-bit MSI installer here:   https://www.chilkatsoft.com/downloads_ActiveX.asp
Step 1.
Download and run the MSI installer.
Step 2.
In Windows Explorer, navigate to C:\Program Files (x86)\Chilkat Software, Inc\Chilkat 32-bit ActiveX
Double-click on CheckChilkatActiveX.exe 
You should see the following dialog: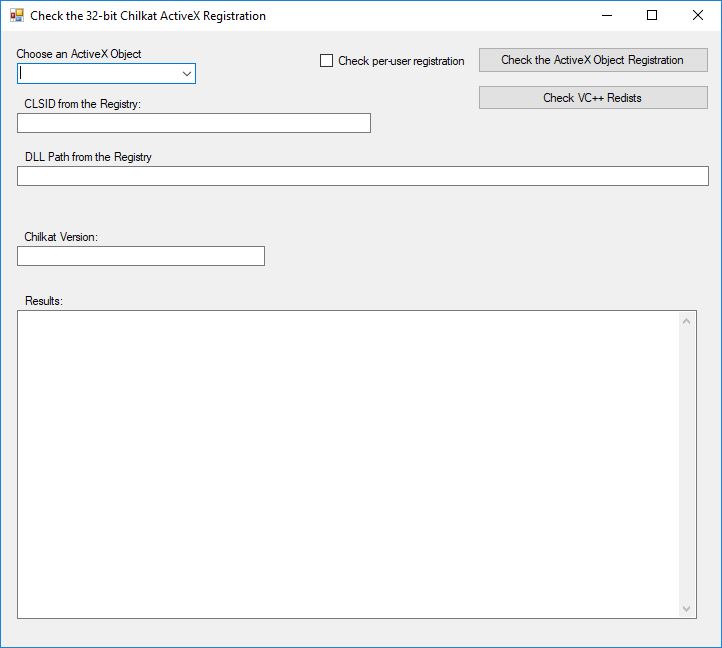 Step 3.
Choose an ActiveX class from the "Choose an ActiveX Object" dropdown.  For example, choose Chilkat_9_5_0.Asn.   Then click on "Check the ActiveX Object Registration".   You will see the following if the ActiveX was registered system-wide Local Machine registry (i.e. for all Windows users).   For more information about the Current User vs. Local Machine registries, see this:  https://chilkatsoft.com/activex_dll_registration_3.asp
Step 4: 
If the ActiveX was not registered to the Local Machine registry, check to see if it was registered to the Current User registry.
Go ahead and check the "Check per-user registration" checkbox.  Then click again on the "Check the ActiveX Object Registration" button.   Now you are checking the Current User registry (the registry specific to your logged on user account).